The New York City skyline is one of the most recognizable and photographed skylines in the world. Why? Because it is so beautiful! The city is filled with amazing architecture, being home to some of the most recognized skyscrapers in the world. With developments underway each and every day, the city is constantly changing. If you want to check out some of the city's most unique buildings and architecture, check out this New York City Skyline guide.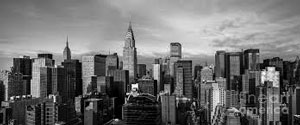 New York City is comprised of nearly 6,000 high rise buildings! The majority of these high rises are located in Midtown or Lower Manhattan. In Midtown, you will be able to recognize one of the most famous buildings in the world, the Empire State Building. The Empire State Building is located on Fifth Avenue and West 34th Street. In Lower Manhattan, you will find One World Trade Center. One World Trade Center, also known as the Freedom Tower, was completed in 2013 and has become the tallest skyscraper in Manhattan and the western hemisphere.
The Manhattan Skyline has plans to continue to change over the next few years. For example, One57 is a new 90-story residential building that when completed will be the tallest residential building in the world. Other buildings that plan on changing the skyline of Midtown include, the Nordstrom Tower, 432 Park, 53 West 53rd Street, and 111 West 57th Street. Many of the new buildings are projected to be completed by 2020. This means, the skyline will have a whole new look! Check out the New York City Skyline guide for a complete list of the current and future buildings that make the New York City Skyline so magical!