Attention picture trivia game addicts. It's time for you to test your might with two of mobile gamings most challenging apps. Introducing LOTUM GmbH's 4 Pics 1 Word and Redspell's What's The Word. If you up for it, you can download these bad boys for free, right now, on all iOS and Android devices. The puzzles can get a bit tricky, but fear not. When you find yourself in an ol' pickle, just check use these 4 Pics 1 Word answers and What's The Word answers.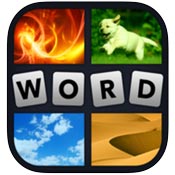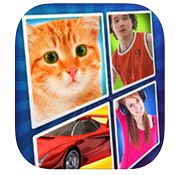 4 Pics 1 Word Answers and What's The Word Answers
If you have a keen set of eyes and one heck of an ability to spot similarities, then 4 Pics 1 Word & What's The Word are the mobile games for you. While both come from different developers, they are almost identical in their gameplay and theme. However, each comes with their own set of images and puzzles. Therefore, you'll need to be versed in areas of many different categories. From animals to foods to completely random objects, these games have them all. Remember, when you get stuck, we've got all the 4 Pics 1 Word answers and What's The Word answers you can handle.
When you get a level in each, you'll be given a set of four images and a bank of letters. From there, you will need to find the common thread that connects each of the seemingly random images. For example you may be shown images of a bodybuilder, an ant lifting a stick, coffee, and a boy hold a weight. After much consideration and thought you can see that the answer is strong. If you are able to answer the puzzle correctly, you earn coins. Get it?
You can latter put those coins to use by spending them on in-game hints. Here, you can remove useless letters from the bank of or add letters to your way. Heck, if you're really in a jam. Just ask you comrades on social media. Just note that these hints are going to be limited in their use. Instead, don't stress. The link above has broken down the 4 Pics 1 Word answers and What's The Word answers by categorizing them by their number of letters (like 5 or 6 letters). With levels guides that easy you should have no trouble dominating the game.